Anti-FIFA Protests in Brazil Much Bigger Than Expected, Clashes – Live Blog
"There is a ghost haunting soccer in Brazil" – @nytimes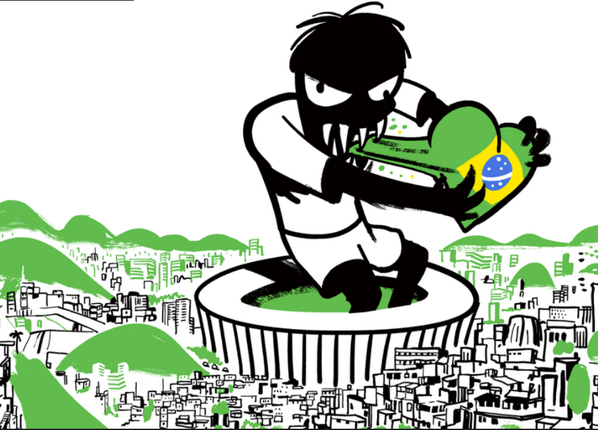 @JuhaniHeiskanen: this, kids killed by BOPE in the favelas.
12 million without means to survive, millions of people socially excluded.  Poverty inflicted as social punishment.
Protests take place in more spots at the same time in Sao Paulo, for now. Cup starts in less than 2 hours. Barricades have been erected where protestors were attacked by special forces of the military police. Repression forces  hoped people will keep away from the streets after a year long relentless repression which culminated with activists, anarchists, antifascits and Black Block being arrested en mass. The opposite happened; thousands and thousands are spoiling FIFA's most expensive show, which is paid by working people in Brazil anyway. 21 protests will take place today in Brazil, there is growing international solidarity with the people of Brazil against FIFA and their robocop- 200,000 strong repression army. 
Writer Paulo Coelho says he won't attend 2014 World Cup "disaster", says FIFA's mega-show will cause "a social explosion". 
Live streams here, http://pastebin.com/u5KpTnPd:
Cops teargased one person and arrested him, violent video here. 
Protests in 21 cities in Brazil against FIFA's World Cup.
Sao Paulo, hours before World Cup starts; there are also manifestations in dozen European countries:
Coletivo Vinhetando – FUCK FIFA:
 Sao Paulo